The warning signs of foundation damage in your home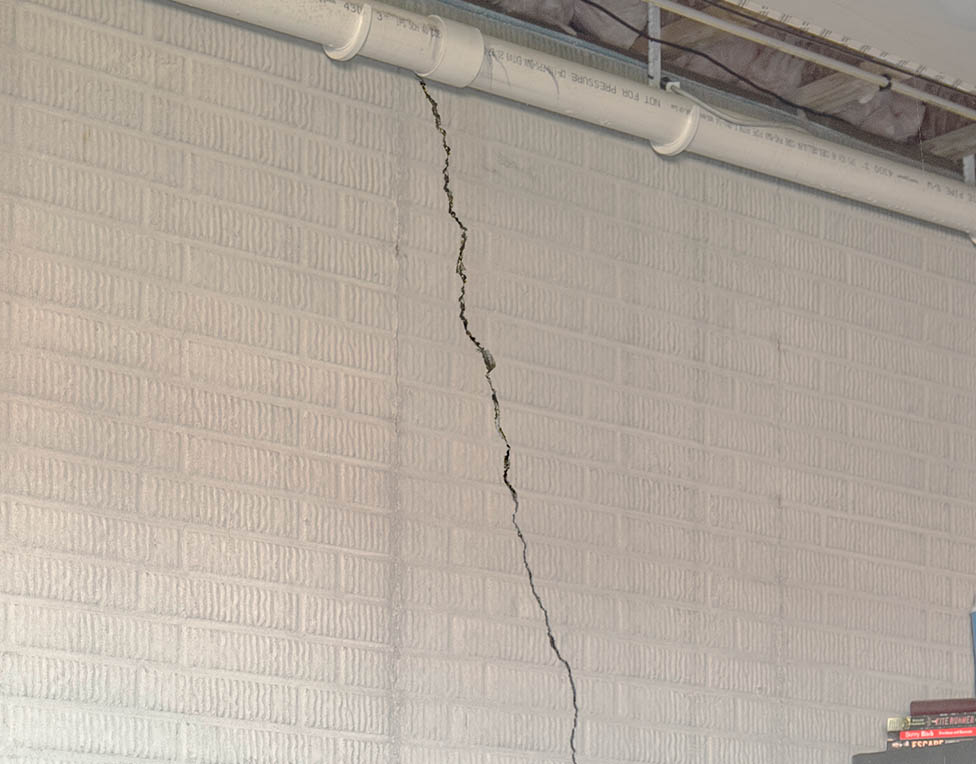 It's no secret dirt settles, but how does settling dirt affect your home?
Every layer of soil underneath your home has different characteristics, and this has a major effect on the foundation of your home. When these soil layers are unable to bear the weight of your home, the foundation can begin to settle.
When the soil starts to settle and your foundation begins to sink, it's important to be able to identify the warning signs so that you can take control and consult with a home foundation specialist.
1. Foundation wall cracks
Believe it or not, not all foundation wall cracks are bad. In fact, some of them are even normal. So, how can you tell the difference between a good crack and a bad crack? Location, direction, and size are all factors.
Shrinkage cracks in poured concrete foundations within a year of construction are normal. However, when cracks appear years after your home is built, or grow longer or wider over time, it usually means something is moving, i.e. foundation settlement.
If a foundation wall crack is wider at the top than at the bottom, then what you're seeing is an indicator that the part of the foundation is falling away from the rest of the structure. What's important to remember is to not fill the foundation wall crack until you determine if the foundation needs to be stabilized. Filling the cracks may prevent a contractor from being able to lift the foundation back into place.
2. Cracks in walls or above the door frames
Cracks in your drywall or plaster are pretty easy to patch, but what causes them in the first place? It could be excess moisture or a poor mud and tape job, but it could also mean that your home has foundation problems.
You can tell that foundation settlement is the cause if you see the cracks re-open after they've been patched. Another key way to tell if your drywall cracks are foundation-related is if the cracks are appearing around the corners of windows and doors. Another to watch for are nail pops. Nail pops occur when the drywall shows damage where nails or screws were placed. If the drywall shifts, the drywall mud that covers the screw will sometimes pop off.
3. Sticking doors or windows
Sticking doors and windows are common, especially with older homes. It could be happening because of a moisture problem caused by humidity, but it could also mean your foundation's settling. If you put a four-foot level on the top of the window or door frame and see that it's unlevel, then it's more than likely a foundation-related problem.
4. Uneven floors
If your basement concrete floors aren't level, then that's a clear sign of either foundation settlement of heave. To avoid more foundation damage to your home, it's important to set up a foundation inspection as soon as you notice the problem.
If your floor is uneven on the upper levels of your home, then that could mean a number of things. It could mean your foundation is settling, or the interior columns in your basement or crawl space are shifting, or your floor joists in your crawl space aren't properly stabilizing your floors.
The biggest thing to keep in mind is that foundation problems only get worse over time, and it's always to get a professional opinion for something as serious as foundation damage.
TerraFirma provides free inspections for all homeowners. During our inspections, we'll provide you a quote to repair your foundation, but if we determine that you don't have any foundation issues, we'll be glad to let you know. Either way, an inspection from TerraFirma puts you on the road to peace of mind for your home.