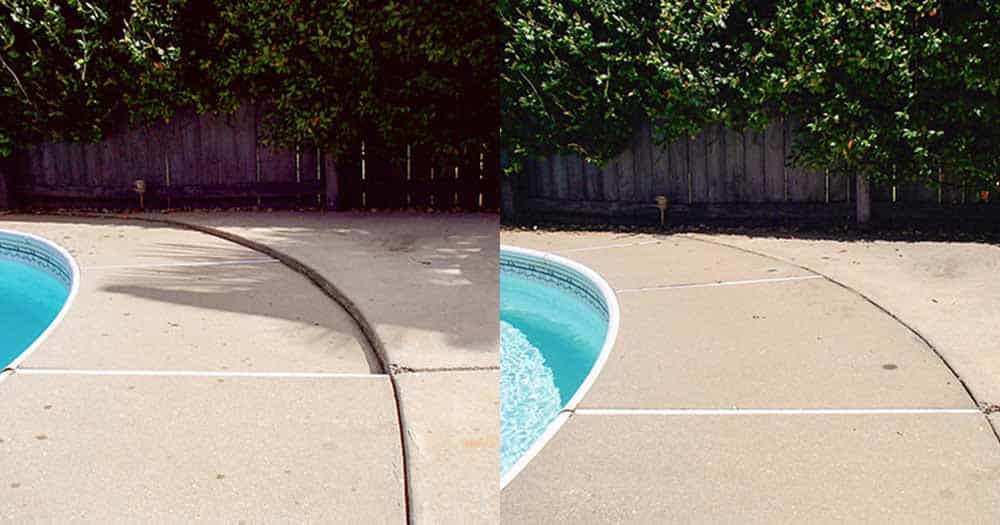 Just like it's important to keep your sidewalk, patio, and driveway leveled and free from being a tripping hazard, the same care needs to be put into maintaining your pool deck. With your pool getting more use as the summer moves forward, the potential for injury on a pool deck from slipping, tripping, or falling grows exponentially.
Fortunately, there are a few ways you can maintain your concrete pool deck that will help extend its lifespan, increase curb appeal, and most importantly, ensure safety to your family and guests.
Pressure wash your pool deck
With debris from trees, dirt, mud and other elements, a dirty pool deck is inevitable. Additionally, the damp environment can lead to algae and mold growth, which is not only unsightly but can create a slippery, dangerous surface.
Pressure washing is the easiest and most effective way to remove dirt and algae growth, and it's a relatively easy project. If you're the DIY type, you can purchase or rent a pressure washer and concrete cleaner and finish the process in a matter of hours. Hiring a professional is another viable option, and can likely become part of your annual or bi-annual service schedule.
Repair small cracks to keep water from leaking below the surface
Cracks can arise for many reasons, and even small ones can leave your concrete vulnerable to more damage – not to mention a tripping hazard. When water seeps in through a crack, it can cause the soil to shift beneath the concrete. This shift can lead the concrete to settle or sink, and can even compromise the integrity of your pool.
The good news: sealing small cracks can usually be done on your own without the need for calling in a professional contractor. The biggest thing to keep in mind is that repairing cracks early makes a big difference, and will help your concrete last longer.
We use special tools to chase cracks in concrete, which involves grinding the crack to smooth the edges and filling and sealing with our proprietary silicone-based NexusPro™ caulking product. Once the caulking has set, the crack no longer allows moisture from rain or snow to seep below the concrete slab. It's also resistant to ultraviolet light, which helps to avoid drying and cracking that is common with other caulking products.
Remove tripping hazards altogether by leveling your concrete
A 2- or 3-inch differential between a sinking deck slab and the coping stones bordering the pool is not uncommon and can cause a tripping hazard for an already treacherous area. With slippery wet areas, diving boards, ladders, curves and the pool itself – tripping hazards around a pool add another element of danger and can lead to tragedy if not addressed.
While demolition and replacement may be required when there's extensive damage, often times, repairing before replacing will save money and time, and will extend the life of your concrete. In fact, our concrete leveling polyurethane injection system can be completed in a matter of hours, cures in 15 minutes, and is less destructive and more durable than mudjacking or sand-jacking.
Learn more and see for yourself how our concrete leveling works, or contact us for a free inspection and estimate for concrete repair.