Unfinished basements can be an eyesore, but for those of us who use basements for laundry and storage, looks aren't important. That is, except for when ugly and suspicious stains begin to appear on our basement walls.
If you have ugly water stains on your basement walls or have noticed undetermined substances that are starting to peel, flake, fall, or ooze off of the walls, then you might be seeing signs of other major problems.
When basement wall stains appear, many homeowners begin to worry about mold and the implications it can have on their indoor air quality and health.
While not every basement wall stain is mold, all of them do have the same source and happen for the same reason as mold – water intrusion. When groundwater consistently infiltrates the porous concrete walls, wall stains and related problems can occur. Therefore, the first step to correct any type of basement wall stain problem is to provide adequate foundation drainage in order to minimize the water infiltration. Unless you take every step to keep the soil surrounding the walls as dry as possible, those ugly stains will just keep coming back.
It's important to recognize the different types of basement wall stains and know how to deal with them on an individual basis. Using the wrong products or procedures to get rid of wall stains can lead to more problems, and can sometimes pose undesirable and unnecessary health risks.
In this two-part blog series, we'll examine what every stain means in your basement.

Efflorescence
Efflorescence is commonly confused with mold. It is a white, powdery, and sometimes glistening substance that appears on basement wall surfaces. Efflorescence is a loose mineral salt that is carried in with the water that infiltrates the concrete, being deposited on the walls during the process.
Although somewhat unsightly, efflorescence is harmless and poses no health concerns. It is, however, a sign of humidity. Basement humidity should be controlled, as it might cause more problems – including mold - to appear over time.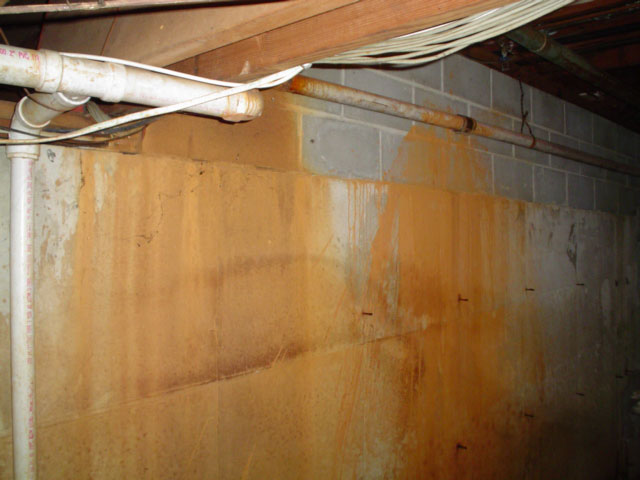 Reddish/Orange Stains
Rusty stains on the wall are a sign of iron ochre infiltration. Iron ochre is common wherever there are high levels of iron in the soil. Just like efflorescence, iron ochre is carried into the basement with the water that seeps in.
While not detrimental to human health, it can lead to many problems in your drainage systems by building up in pipes and drains and causing them to clog and fail.
Iron ochre stains are very stubborn, and they're almost impossible to clean. They will stain anything they touch, including carpeting, drywall, plastic, and other materials. There is no effective way to clean them from the walls, so your best approach is to cover them.
Dark Stains
Dark black or grayish stains on the wall are a sign of mold. Mold thrives in the presence of high humidity, warmth, and organic matter. It's always warm enough in your home for mold to grow, even in the cold basement, and household dust carries enough organic matter to feed it.
The only thing you can do to stop mold growth in your basement is to keep the relative humidity levels down, preferably at or below 60%.