Repair solutions for sagging and sinking crawl spaces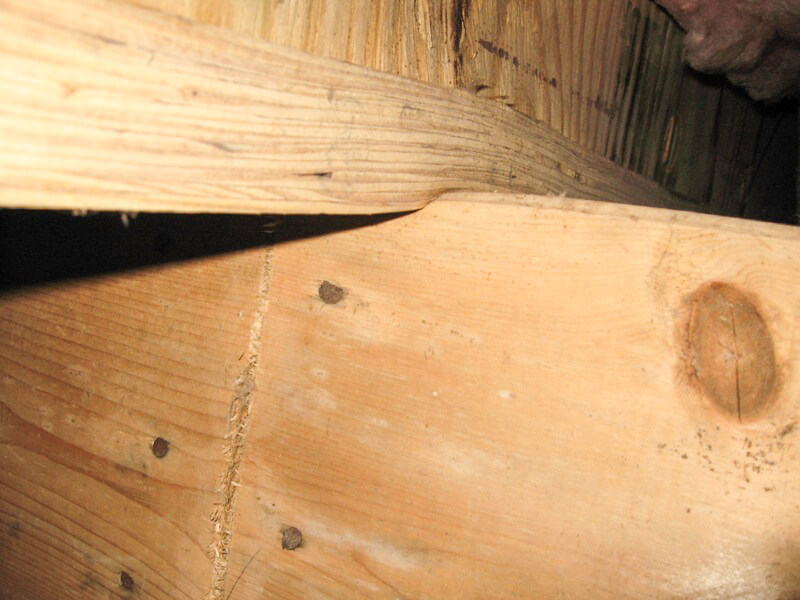 Have you noticed un-level or bouncy floors in your home? If so, there is a good chance your crawl space is experiencing structural problems that are causing it to sink or sag in the middle. Crawl spaces experience structural sagging for three primary reasons: support columns spaced too far apart, rot-weakened joists, girders, and posts, and columns settling due to weak soil or poor footings.
If you have tilting or sinking crawl space supports, too few supports, moist, rotting wood, sagging, sloping, or uneven floors, cracks in interior drywall, or door & window frames that are skewed and un-level, it's time to call in a professional.
At TerraFirma, we specialize in stabilizing sinking crawl spaces. We can install crawl space supports to ensure that your structure is properly stabilized while also adding an encapsulation system to prevent mold and rot.
Crawl Space Support Jacks
To be stable, strong, and level, the floor above a crawl space requires solid mid-span support that's usually provided by a post-and-beam assembly. But beams are often undersized, and many contractors use wooden posts that can rot, shift and settle. When this happens, floor joists sag and other structural problems occur. The SmartJack system is a foundation repair product that provides a permanent solution to these problems.
The SmartJack system provides solid support for sagging and undersized beams, restoring stability and straightness to sagging floor joists in a crawl space. Once installed in your crawl space, SmartJack support posts can correct problems such as sloping and overly springy floors, interior wall cracks, and out-of-level door frames. Because of its design, the SmartJack can be adjusted over time to provide additional straightening and leveling action if necessary. The SmartJack is also compatible with a crawl space vapor barrier system, allowing you to address crawl space mold and humidity issues while repairing your structural issue.

SmartJack Features
Supports loads of more than 60,000 lbs

Galvanized for corrosion resistance

Installs in limited-access areas

The ONLY crawl space support jack that addresses problem soils
The SmartJack is also compatible with crawl space encapsulation systems, making it a good choice for homeowners wishing to eliminate moisture problems and improve home energy efficiency, while also solving structural problems.
SmartJack Installation Process

Installing the SmartJack System is a fast process that will not disrupt your home or landscaping. During our crawl space repair, our installers will follow these five steps:
Preparing for installation:

Our system design specialists will determine the best plan for your home's needs, mapping out the location for each crawl space support jack. The installers will excavate a 2′ square, 2′ deep hole at each SmartJack® location that will be prepared with engineered fill consisting of tightly compacted crushed stone.

Placing the pre-cast footing:

A pre-cast concrete base (or footing) is placed on top of the engineered fill and carefully leveled to serve as a stable base for the steel jack post. The engineered fill base underneath the footing provides solid support that won't shift, settle, or be affected by soil moisture.

Cutting the jack posts to length:

Once new bases have been installed, measurements are made for the steel crawl space jack posts, and the posts are cut to length. The steel tube used in each SmartJack® is manufactured with a triple-layer, in-line galvanized coating.

Assembling & tightening:

Each crawl space jack post is assembled in your crawl space. The top of the crawl space jack is mounted against the girder, and the installation is carefully plumbed. Each SmartJack® is then tightened in an attempt to lift the floor back to its original position, straightening and leveling floors, closing cracks in walls, and halting future downward movement. The jacks will continue to be adjustable for future tightening, should you need it.

Encapsulating the crawl space:

If your wood crawl space joists, girders, and/or supports were damaged by mold, rot, and moisture, then you will want to address these issues to prevent future damage. The encapsulation process involves sealing all crawl space vents, installing an airtight crawl space door, and lining crawl space walls and floors with a durable plastic liner. This treatment can also include additional drainage measures like installing interior drains and a sump pump. Encapsulation stops moisture-related damage and associated structural problems that occur when framing members rot and deteriorate.
If your crawl space is sinking or sagging, TerraFirma can help. Contact us today to schedule your free evaluation!