The benefits of our crawl space structural support jacks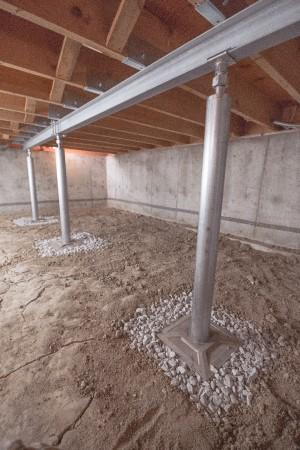 The SmartJack® system addresses crawl space problems based on proven techniques for foundation repair.
Product Features
Supports loads of more than 60,000lbs
Galvanized steel for corrosion resistance
Installs in limited-access areas
The ONLY crawl space support jack that addresses problem soils
To be stable, strong, and level, the floor above a crawl space requires solid mid-span support that's usually provided by a post-and-beam assembly. Unfortunately, beams are often undersized, and many contractors use wooden posts that can rot, shift and settle. When this happens, floor joists sag and other structural problems occur.
The SmartJack® system is a foundation repair product that provides a permanent solution to these problems. The SmartJack® is installed by attached steel support beams to your floor joists and a sturdy base at the floor. Once all posts are installed, they are adjusted to raise your floors to a level position.
The SmartJack® system can be easily adjusted at any point if your home requires it, ensuring that you have a permanent solution to your problems. The SmartJack® is also compatible with crawl space encapsulation systems, making it a good choice for homeowners wishing to eliminate moisture problems and improve home energy efficiency, while also solving structural problems.
We offer free crawl space repair quotes!
If your crawl space is sinking or sagging, TerraFirma is here to help. We eliminate your sagging and uneven floors at the source, giving you a durable solution that restores your home's stability.
If you want to put an end to your crawl space repair problems, give us a call today at 1-844-311-8051 or contact us online to get a free estimate on crawl space support jack installation. We provide all our services in Portland, Eugene, Medford, Seattle, Tacoma, Salem, Renton, Hillsboro, Gresham, Roseburg and throughout the surrounding areas.
Looking for a price? Get a no cost, no obligation free estimate.